Optimizing and Reducing Energy Consumption
With the goal of optimizing and reducing energy consumption, this project involved the improvement of the plant's cooling system. To achieve energy efficiency, existing refrigeration equipment using R22 refrigerant was replaced with more energy-efficient equipment, using R410A and R134a refrigerants, respectively.
Subsidies for Energy Efficiency
This project has been subsidized by the "Aid Program for Energy Efficiency Actions in SMEs and large companies in the industrial sector". This program is co-financed by the European Regional Development Fund (ERDF) and managed by the Catalan Energy Institute (ICAEN) with charge to the National Fund for Energy Efficiency.
SOS: Energy Efficiency
At Laboratorios Rubió, we understand the importance of energy efficiency as a contribution to resource savings and environmental protection. This project is an SOS response to the need to implement energy efficiency measures in all industrial sectors.
#RubióForTheFuture: our commitment to a better future
Our efforts to act today for a better tomorrow, in terms of ESG, are materialized in our #RubióForTheFuture initiative, which shows our commitment to having a positive impact on the world we live in.
We are committed to making positive contributions to our planet because we want to see a future where sustainability is not an option but a norm. That's why our commitment to environmental sustainability is rooted in our decision-making.
Laboratorios Rubió: a path to a healthy and sustainable future
We promote health in all its forms at Laboratorios Rubió, which includes the health of our planet. We believe a healthier and more sustainable future is possible, principles that are synthesized in our ethical code.
We are working towards a future where human health and sustainability coexist. We are convinced that through cooperation, we can achieve this goal, improving sustainability and health for a habitable planet for everyone.
 HVAC System Upgrade at Laboratorios Rubió's Production Plant
The image below depicts the substitution of the HVAC system at the Laboratorios Rubió's production plant, a key aspect of our energy efficiency enhancement project.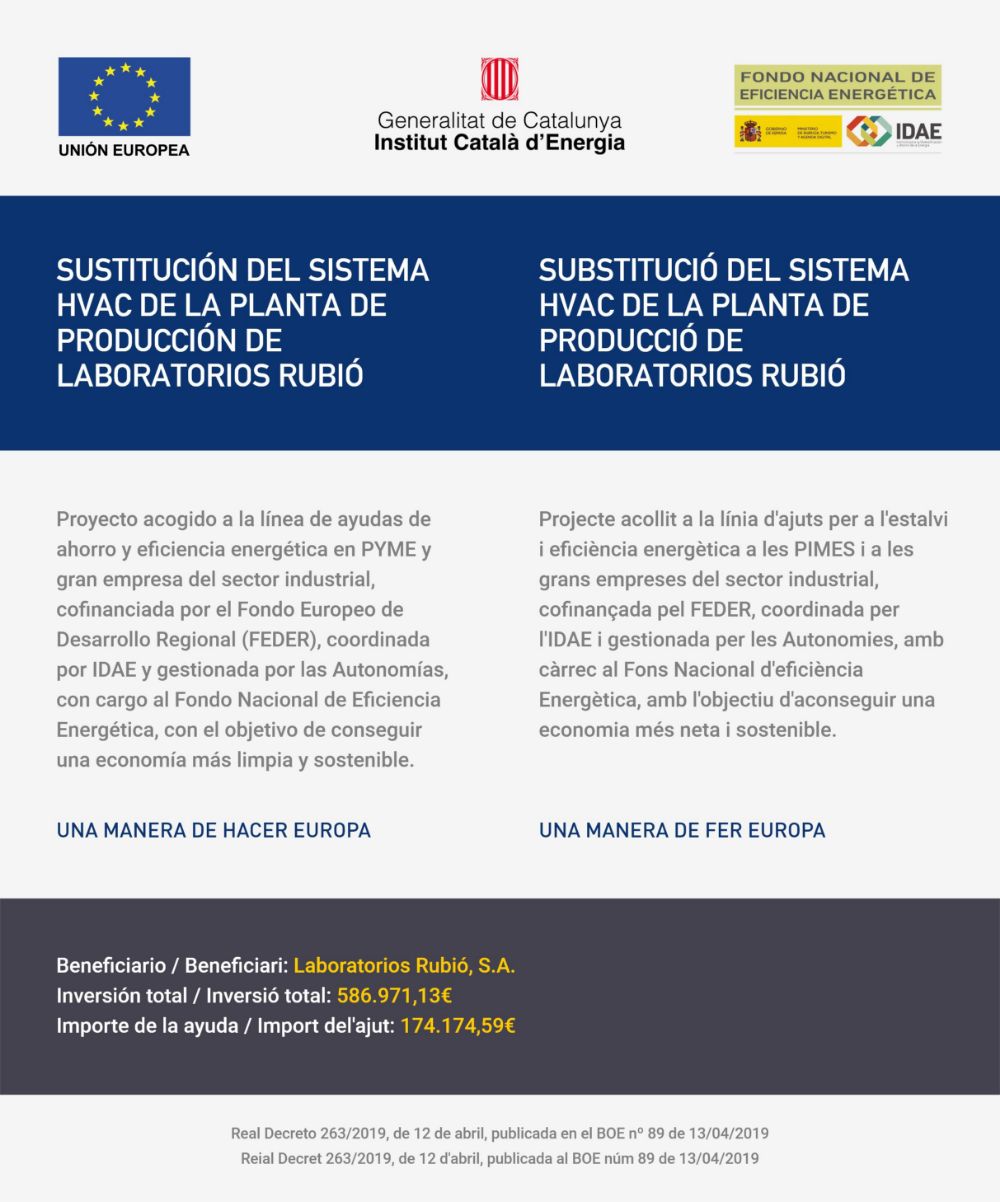 12/11/2020